Regular price
$149.00 USD
Regular price
Sale price
$149.00 USD
Unit price
per
Sale
Sold out
Fits the Mt. Hood 6' x 4' Greenhouse Kit
Made with attractive, high-quality redwood
This addition creates an excellent workspace and storage area
Measuring 21" wide x 4' long
Includes all necessary hardware for installation
Care Instructions

Though redwood will perform better than most other woods if left without a finish, it will look better and last longer if a protective finish is applied and maintained.

Clear water repellent finishes containing mildewcides help preserve the natural appearance of redwood siding. They may not, however, prevent the natural color changes associated with the weathering process. Clear water repellents or water repellent preservatives are the most natural types of finishes, but they are also the least durable. They require reapplication every one to two years. These finishes can be used on decks, fences, siding or other exterior projects.

Transparent and semitransparent stains may last from three to four years. These finishes contain pigments which protect the wood from the degrading effects of solar radiation.  The best products contain water repellents, mildewcides and ultraviolet light blockers or absorbers. When selecting a pigmented stain, CRA recommends testing finishes on a small area to be sure the desired color effect is achieved. Transparent stains contain less pigment than semitransparent stains and provide a more natural look. These finishes can be used on decks, fences, siding or other exterior projects.

A wide variety of finishes can be used on interior redwood, including the option of using no coating at all. Areas, such as kitchens and baths, which are subject to moisture need the most protective finishes. Alkyd resin or polyurethane sealers and varnishes are appropriate for these areas. Elsewhere, wax finishes, penetrating oils, stains and paints may be used.

Redwood takes and holds paint better than most woods. It is important, however, to select and correctly apply the right primer.  Use oil- or alkyd-based primers or water-born stain-blocking primers on redwood. These primers are available from many paint manufacturers and are formulated especially for redwood, cedar and other wood with a high extractive content.  Follow the manufacturer's recommendations for application closely. The best finishes will not perform if they are applied incorrectly. High quality acrylic latex top coats provide the best durability.
Shipping & Returns

All orders are shipped via LTL except the GKS which ships via UPS.

Deliveries to Islands or large city centers like New York City, may have additional costs. If so, we will notify you before shipping.

Any added items like bench kits and anchor kits shipped at the same time as the greenhouse will be included in the cost.

We will request a lift gate for all greenhouse deliveries.

Customer must inspect freight prior to unloading and document any damage prior to signing the Shipping Document "BILL OF LADING or DELIVERY RECEIPT" provided by the delivering carrier.

Please ensure that you mark "DAMAGED" on these documents before signing for the delivery.

Do not refuse the delivery without contacting us first. 888- 590-8657

Deliveries will be made to the end of the driveway.

Delivery into a garage or carport is not provided.

The customer will receive a phone call from the carrier to arrange a delivery time. This is usually the day before delivery.

We recommend two people to move the boxes. Each box will be large and weigh up to 90 lbs.
Dimensions

Patio Greenhouse 

Great for gardeners with limited space but need more than a cold frame. It is 3' deep wide and 5'6" tall in the back. It comes with four wire shelves which can be
adjusted for different growing needs. Comes with a back wall so it does not require attaching to a wall like other lean too type greenhouses

6′ x 4′ Mt. Hood
Greenhouse 

Contains the same features and height as the 6′x 8′ size; This model is one-half the size of the 6′ x 8′ size.

6′ x 8′ Mt. Hood
Greenhouse 

Is surprisingly spacious due to its 8'6″ height. It comes complete with automatically operated roof and base vents, and a convenient
Dutch door entry.

6′x 12′ Mt.Hood Greenhouse 

Contains the same features and height as the 6′x 8′ size, but includes 50% more space.

8'x8' Mt. Rainier
Greenhouse 

Our newest size has one roof vent and two back wall
vents each with an automatic opener. It is 10 feet tall at the peak.

8′ x 12′ Mt.Rainier
Greenhouse 

Our most popular size GardenHouse has a roof height
of 10 feet at the peak. This size affords plenty of space for plants and even
outdoor furniture. Expanded ventilation includes two automatic roof ridge
vents, and two automatic base vents on the back wall.

8'x16' Mt. Rainier
Greenhouse 

Our largest size GardenHouse the same features as
the 8'x12' but four feet longer.
Share
View full details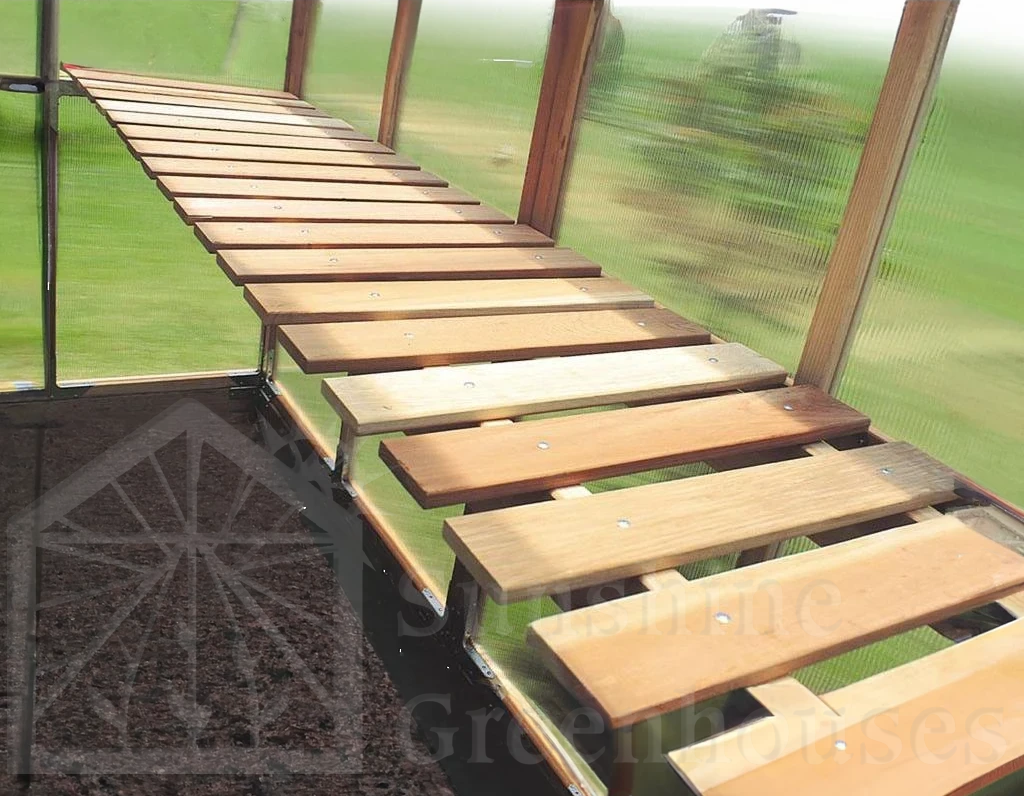 Redwood Bench Kits
Specially designed matching redwood benches are available that run the full length of the Sunshine GardenHouse.. Benches are 21″ deep for all Mt. Hood models.  Up to 4 benches can be used in each GardenHouse.
Great looking and durable redwood 2"x2" frames are naturally resistant to insect and moisture damage, and use only second growth redwood to preserve old-growth redwood. They are immune to rot, impervious to termites and won't split or warp.
Redwood Frame

An Attractive and Durable Redwood Frame, which is naturally resistant to insect and moisture damage. Only second-growth redwood is used, preserving old-growth redwood.

Glazing

Double-Wall Polycarbonate Panels will not crack or shatter, retain heat in the winter, diffuse light for even plant growth, and block 98% of the harmful UV rays. The impact strength of polycarbonate is 30 times greater than acrylic and 200 times greater than glass.

Assembly

Assembles Easily and Quickly. The major components of the GardenHouse Kit are panelized for an easy sure fit. And each Kit comes with easy-to-follow instructions and a convenient product assembly video.

Hardware

Patented Rigid Tie connectors make the structure rigid and strong.

The GardenHouse was tested by an independent lab and withstood its maximum wind load capacity of 85 mph with no damage.

Roof Pitch

The 45-degree roof slope transmits low-angle sun in the winter and reflects high-angle sun in summer. This increases heat in the winter and reduces it in the summer. It also provides ample headroom and plant-hanging space. The steep roof slope sheds snow in the winter and can withstand a snow load of 18 lbs. per square foot.

Door

A convenient Dutch Door Entry provides additional ventilation control and access.

Base

The frame base of the GardenHouse is a durable plastic with the authentic look, color, and texture of redwood, but with the consistent properties of plastic, making it resistant to insect and moisture damage. A foundation is not required. It is only necessary to prepare a flat surface of gravel, wood, cement, or other material as indicated.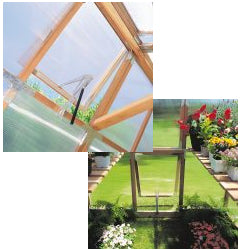 Automatic Vents Simplify Climate Control
Automatic vent operators on the roof and base vents require no electricity or batteries.
The vent operator contains a paraffin (wax) that expands when the temperature reaches about 65°F, pushing the vent open to its fully opened position at about 85°F.
As it cools and the paraffin contracts, the operator's springs draw each vent closed.
It is adjustable within approximately 5°F and easily detachable for manual operation.